Town Hall Meeting Summary
AgriWellness Conference, June 22, 2011
Dubuque, IA
AgriWellness, Inc. and the National Association for Rural Mental Health are pleased to invite you to join us for the first annual gathering of these two organizations. This year, AgriWellness will convene its biannual conference on Wednesday, June 22 and NARMH will hold its annual meeting June 23-25 at the newly developed:
Grand River Conference Center
Dubuque, Iowa
This conference brings together two organizations that serve the behavioral health needs of rural people: National Association for Rural Mental Health and AgriWellness. Since both organizations have some common purposes and members, and both chose the heartland river town of Dubuque, Iowa for their 2011 meetings, the organizations determined to join forces and to explore the advantages of working together in a shared venue.
This conference is dedicated to exploring new dimensions and directions in the delivery of behavioral healthcare in rural and agricultural settings. Focus areas include: diversity of rural and agricultural people, growing disparities in delivering behavioral healthcare in rural America, disaster behavioral health services in rural areas, special issues of deployed rural warriors and their return to rural communities and domestic violence in rural areas.
The conference planning committee has already confirmed many leaders and experts as speakers for this conference. There is still time to submit a proposal for a workshop. If you are interested in submitting a proposal, please visit here:
The Top 5 Reasons to Visit Dubuque in 2011:
#5. America's River Project. This is a complete overhaul of the Port of Dubuque. Visitors can learn about and interact with the river in the museum and aquarium, take a ride on the paddle wheeler, and kids (and adults) will love the Grand Harbor resort indoor water park. This is also the site of the conference.
#4. Mines of Spain Recreation Area. This area is located just south of Dubuque in beautiful wooded and prairie lands. It features Horseshoe Bluff interpretative trail and miles of hiking paths. Julien Dubuque is buried here.
#3.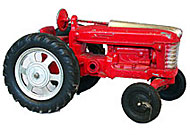 National Farm Toy Museum.
Located in Dyersville just a short drive from Dubuque, this museum traces the history of agriculture through farm toys and artwork. It includes an original Ertl toy company assembly line. This warehouse is a delight to the farmer, the toy collector and the child in all of us.
#2.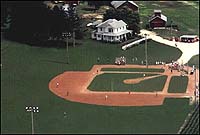 Field of Dreams.
The house and baseball field from the 1988 movie are located just a short drive from Dubuque in Dyersville. There are no organized activities and no admission fee. Visitors can bat balls, run bases or dream from the bleachers. A must for any baseball fan!
#1. The top reason we recommend people to come to the conference next summer is because Carol, AgriWellness Administrative Assistant, grew up in Dubuque and knows the best places to visit, eat and drink!
<!--[if pub]>